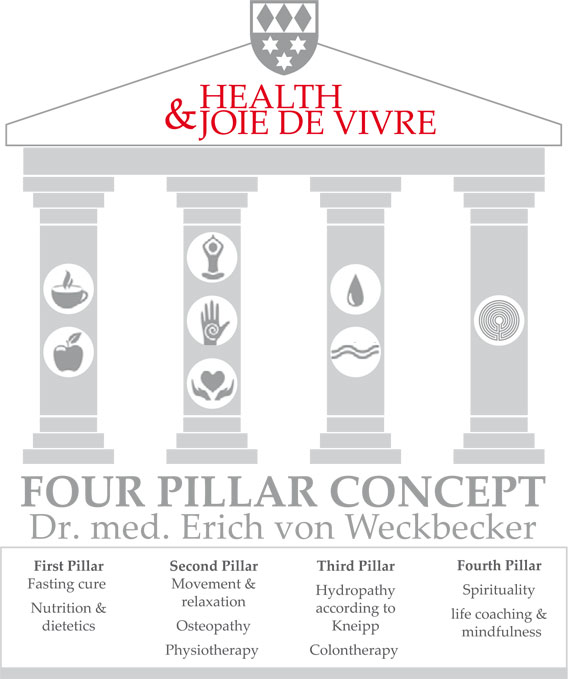 Fasting Cure
Due to the optional abstinence from solid food your body switches over to "nutrition from within". Final metabolites are mobilised and defecated. A fasting cure has an anti-inflammatory, antirheumatic, antiallergic and mental stabilising effect. A loss of weight is most commonly a welcome side effect. The fasting cure will be customised exactly to your needs. Together with your doctor you choose the type that suits you best: juice fasting with vegetable stocks rich in minerals, freshly squeezed vegetable juices and herbal teas, or fasting according to F. X. Mayr with milk and bread rolls.

Nutrition & dietetics

A proper nourishment, rich in vital substances, is your guarantor for a long lasting therapeutic success. Therefore our nutrition experts will demonstrate you in practical kitchen trainings, lectures and in shopping trainings that a healthy nourishment can be real fun. With a simple, quick and delicious cuisine you can achieve long lasting well-being and increased efficiency. No two of us are (eat) alike. During an individual consultation we will advise you additionally how you can promote your health by an optimized nutrition.
We set a high value on locally grown and organic food.

Movement & relaxation

Body, mind and soul circulate harmonious in a certain order: Action is followed by rest, stress is followed by relaxation. This rhythm is the basis of your health. You can experience the positive effect of our wide therapy range in the interaction between manual therapies and the fasting cure. Your health profits of movement which is supported by the relaxed tonicity and the stimulated metabolism during fasting.
We offer a wide range of exercises from aqua fitness to stretching, fasciae training, Milon® circuit training or Nordic Walking and pilates.

Osteopathy

Osteopathy in combination with a fasting cure is very effective: Precise manual techniques enable the treatment and correction of interdependencies and imbalances between musculature, organs, joints and spine. This is especially useful in case of orthopaedic symptoms as well as in case of gastro-intestinal diseases and migraine.

Physiotherapy/ manual therapy

In addition to muscle formation training and classic massages for muscle relaxation we offer a wide range of special treatments: manual lymphatic drainages, craniosacral therapy, acupuncture massage according to Penzel (APM), Dorn-Breuß-Massage, LNB therapy, reflexology and connective tissue massages.

Hydropathy according to Kneipp

Baths with herbal adding or hot and cold baths/humid packages as well as affusions activate sustainably metabolism, blood circulation and lymph system. Especially circulation and the autonomic nervous system profit with a lasting effect. Excretory processes of the fasting cure are supported, the immune system is strengthened, relaxation and restorative sleep are more obtainable.

Colontherapy

Colontherapy makes the fasting cure particularly effective. The gentle enema (large intestines) helps to excrete metabolic waste products faster. This therapy, developed by Dr. med. Erich von Weckbecker, will help to avoid or quickly allay the hungry feeling and headaches of the initial fasting phase.

Spirituality, life coaching & mindfulness

During the fasting cure, many people feel an increasing sensibility and a positive change of their attitude towards life. A certain feeling of happiness and a creative, cheerful relaxation become noticeable. Intensive dreams may accompany your sleep. The distance to everyday life gives you space for fundamental life questions. In a calm atmosphere and in settlement with the own body it is possible to dedicate oneself to suppressed feelings and thoughts and to care of inner concerns without being pressed for time. Our team for spiritual counselling accompanies you during these experiences. One-on-one conversations, discussion sessions and exercises will show you new paths how to handle important life topics and how to develop a mindful living. Meditative events and worships give you strength and peace of mind.